Namaste, World! I am
Ayush Gupta
I build things for the web & mobile.
About Me
Howdy! I'm Ayush Gupta. A mobile & web app developer, who enjoys building, learning and exploring things that live on the web.
Fondly known as GuptaJi. My fingers are either on a keyboard or on the shutter button.
I'm currently working as a Senior Mobile Frontend Engineer at Razorpay - India's payment product suite for businesses, where I'm a part of our payments mobile app & GraphQL team.
Here are a few technologies I love working on:
React Native
React
JavaScript
GraphQL
TypeScript
NextJS
HTML5 & CSS3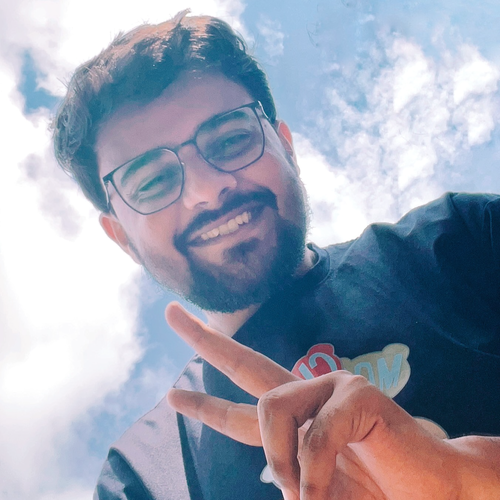 Fun Facts
For a joke I wrote on Twitter, I once received a ₹1 tip through my tip jar on Twitter. Someone else tipped me ₹2 for my art & shitposting, when I posted this story on Instagram. I can now declare with certainty that I have made money off of shitposting!
Work Experience
Senior Frontend Engineer
 @ 
Razorpay
Aug 2021 - Present
Bengaluru, IND
Implemented Progressive Canary Analysis & Rollout of our GraphQL server with automated zero-touch rollbacks. It helped to detect issues early with decreased blast radius & confidently ship to production
Wrote full tech spec of progressive canary analysis & releases of GraphQL server with whole architecture & deployment flows, whose details were loved by many. Deep dived into DevOps Kubernetes infrastructure, implemented 10+ end-to-end deployment pipelines on Spinnaker, created Grafana dashboards while adding canary releases of GraphQL.
Optimised CI build times of iOS app reducing it by 20% and reduced the app size with it as well.
Saved ~8m of developer's time per commit by fixing an issue with deployment of our GraphQL service in stage environment.
75% reduction in android build times by making an architectural modification, saving up to crucial 90mins of build hours in a month, for a single developer.
Led the successful major version migration of apollo-server, NodeJS v18 & Rover CLI which is used by our three client apps. Improved Developer Experience with it by adding a GraphQL Schema Change Summary in every PR.
Responded to a sensitive security incident with our CI-CD tool in a close span of the incident reported to resolution in just 2 days, for such a complex task.
Gave a live workshop presentation about making use of our analytics tool Amplitude to various pods in the organisation. Built various dashboards to help my mobile engineering team make more data-driven decisions.
Wrote full-fledged tech spec for a major architectural re-design of our mobile app & contributed in it's implementation, which majorly helped in reducing GTM time for Payment Pages & QR Code feature in the app
Owned the development & release of our app's new hero payment product Payment Handle end to end which became first-touch transaction product leading by 78.06% compared to numerous other payment products.
Implemented QR Code as a payment acceptance method in the mobile app from scratch, without any direct involvement of Product & Design.
Wrote the spec for an Event Delight framework & implemented in the app which got appreciated across leadership & design.
Won ₹50K bounty in an internal hackathon with a team of four where we built a new mobile application in a week that served all of the requirements the bounty project needed.
Rolled out and managed various major releases of our mobile app as a Release Champion on both Android & iOS platforms.
Came up with the idea of in-app quick actions for internal hackathon & developed it, which solves the current pain point of feature discoverability & actions in the app.
Featured Projects
Featured Project

A blazing fast Progressive Web App built in NextJS and Tailwind CSS. Built for publishing our curated weekly newsletters on JavaScript & React.

NextJS
Tailwind CSS
TypeScript
Strapi
React

Featured Project

Online music streaming app starter template with cross-platform tested proficient UI having authentication, storage & real-time database connectivity; sold 110+ times.

React Native
React Navigation
NativeBase
Firebase
Other Noteworthy Projects
Education
2019
Jaipur, IND
Branch - Information Technology
Aggregate - 72.92%
University - Rajasthan Technical University, Kota
Medium - English
2015
Kota, IND
Percentage - 79.0%
Board - CBSE
Stream - Mathematics & Science
Medium - English
2013
Kota, IND
CGPA - 9.8/10
Board - CBSE
Medium - English
What's Next?
Get In Touch
I'm an email away for all your constructive feedback, improvement suggestions, remarkable ideas, fun collaboration, tech discussions, mutual networking or to meet over a coffee.
Curious about my setup? Head over to my uses page.
Like indie music? You'll definitely love music page.
Say Hello

👋🏻